Thin-wall molding
Calculating the mold-filling process for thin-walled injection moldings
The application of rheological calculation programs in the design of injection moldings and injection molds is now state-of-the art. The programs required have undergone constant further development over the past few years.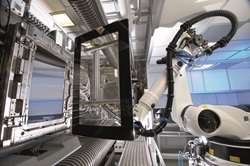 With the latest generation of programs, it is possible to divide up the flow channel cross-section into a number of layers and thus calculate injection moldings with very thin walls as well.

Freezing effects can be simulated under conditions similar to those that prevail in practice (These effects play a key role, particularly with thin walled molded parts).
Improved programs with the finite difference method lead to more precise results.